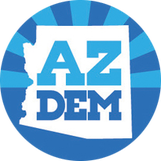 DORR works with the
Arizona Democratic Party
(ADP), headquartered in Phoenix, Arizona. It is an arm of the
Democratic National Party
. It organizes 15 county Democratic Party organizations of the Arizona Democratic Party (ADP). The Party is committed to the continuing growth of a strong grass roots organization that takes action in support of local and national Democratic candidates and issues that promote freedom, fiscal responsibility, security, health and education. The ADP monitors legislation and the performance of our
Legislators at the Arizona Capitol
.
If you voted or tried to vote in an Arizona election and experienced problems, please let the ADP know. Go to
http://www.azactions.com/electionintegrity
and record the difficulties you experienced. Your complaint and many others will be forwarded to the
Secretary of the State of Arizona,
Michele Reagan.
Click on our
"Voter Information"
navigation tab information about voting in Arizona elections. Voting, helping others to register to vote, working within the Democratic Party as a precinct committe person, a state committee person and/or a candidate for office moves Arizona one step further toward a prosperous, fair and free future for all.
---
Democrats of the Red Rocks members enjoyed celebrating Earth Day on April 25, 2015, with the Yavapai-Apache Nation. We were available to help Arizonans register to vote and answered questions about where Democrats stand on the environment and other issues facing our state. For more information about this event and other voter registration activities, contact DORR at (928) 274-6541